Main    Auxiliary Unit 182    Post Squadron 182    Membership    Post Newsletters    Calendar of Events
                    Links to MD Posts    Other Links    182 Photo Gallery    Memorial    Contact Us
The American Legion Post 182 Memorial
<![if !vml]>

<![endif]>
"Resolution 288, adopted at the 67th National Convention calls for designating a POW/MIA
Empty Chair at all official meetings of The American Legion as a physical symbol of the
Thousands of Americans POW/MIA's still unaccounted for from World War II, the Korean
War, the Vietnam War, and other conflicts.  A reminder for all of us to spare no effort to
secure the release of any American prisoners from captivity, the repatriation of the remains
of those who died bravely in defense of liberty, and a full accounting of those missing.  Let
us rededicate ourselves for this vital endeavor!"
<![if !vml]>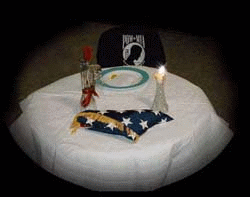 <![endif]>
A tribute to those from The American Legion Post 182 who have entered Post Ever-lasting !!!!!
Our thoughts and prayers go to the families of these departed comrades
Click here Clip on tribute to WWII Veterans "Before you go"
Click here to watch Slide show "If I Die Before You Wake"
"This slide show requires Microsoft Power-Point, however, if you do not have this application
you can download the Free Power-Point Viewer by Clicking this Link"
*Our departed Post Members*
David Bradley
Walter Bush
Ernie Dick
John Drumgoale
Kenny Edwards
Fred Fabian
Mike Gootee
Bob Harvey
Larry Smith Sr.
Jim Steele
Famous Watkins
Ross Wise
*Our departed Auxiliary Unit 182 members*
Lorene Violet
Plude
Nellie Cantler
Susie Barnett
Comments or suggestions mailto:legion182md@lycos.com
Last Updated on 12March2006